This is a video clip from a Lang Lang recital from the Proms series of concerts in London in August 2008. Lang Lang's father, Lang Guoren, joined him on stage for the final piece, "Horse Race" (Sai Ma).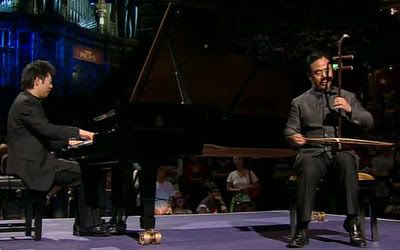 Link 23MB 5 min avi
There is also a similar clip of them playing Sai Ma in Carnegie Hall, New York, on Youtube.
Lang Guoren's erhu is a Beijing 8 sided type with a circular back, and brass machine tuners.
Also, a very short clip of him playing from a TV documentary about Lang Lang.
Link to video clip (6.8MB 1 min avi)