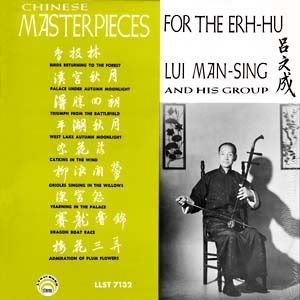 Artist: Lǚ Wénchéng 吕文成 (as Lui Man-Sing and his Group)
Album: Chinese Masterpieces for the Erh-Hu
Year: not stated
Format: 12 inch vinyl LP
Company: Lyrichord LLST 7132
A1. niǎo tóu lín 鸟投林 Birds Returning to the Forest (gaohu solo)
A2. hàn gōng qiū yuè 汉宫秋月 Palace Under Autumn Moonlight (erhu and zheng)
A3. dé shèng lìng 得胜令 Triumph from the Battlefield
A4. píng hú qiū yuè 平湖秋月 West Lake Autumn Moonlight
A5. xù huā luò 絮花落 Catkins in Wind (yangqin solo)
B1. liǔ làng wén yīng 柳浪闻莺 Orioles Sing in Willows
B2. shēn gōng yuàn 深宫怨 Yearning in the Palace
B3. sài lóng duó jǐn 赛龙夺锦 Dragon Boat Race
B4. méi huā sān nòng 梅花三弄 Admiration of Plum Flowers (erhu solo)
Notes:
as "Lui Man-Sing and his Group" on the LP
Download link:
http://sharebee.com/1b9bd8a8
Filename: Lv Wencheng - Masterpieces for the Erh-Hu (Lyrichord LLST 7132).zip
Size: 52.03 MB
The title of the LP is a bit inaccurate, none of the pieces are specifically for the erhu, except maybe the first track. Most of the tracks are
Guangdong yinyue
(lit. Guangdong music; a specific style of music from Guangdong) performed by an ensemble.
This LP doesn't have a date, I would guess it was recorded in the 1960s. The performance of the ensemble pieces is somewhat similar in style to the
Guangdong yinyue
I've heard from pre-1949 China, on CD. It has that Shanghai dance hall jazzy feel of the 1930s, especially on track A4. píng hú qiū yuè 平湖秋月 West Lake Autumn Moonlight.
Three of the tracks are instrumental solos, the rest are ensemble. Interestingly, two tracks seem to be music from the Shanghai area:
A5. xù huā luò 絮花落 Catkins in Wind
B4. méi huā sān nòng 梅花三弄 Admiration of Plum Flowers
The second one, I would guess, is Lü's own version of San Liu (three six). San Liu is also called Meihua Sannong (three variations of plum plower).
I've include extra versions of 2 tracks. These have been slowed down to a slightly lower pitch.
A2. hàn gōng qiū yuè 汉宫秋月(80 percent lower and slower, in G)
Most Guangdong Music pieces are played in the key of C (1=C), with the gaohu tuned to G, D. The open strings would be sol, re (5 with dot under, 2). This recording by Lü Wencheng as transfered from the LP has the key of approx G sharp or A flat (assuming A=440hz).
For the convenience of playing along with the recording without having to re-tune your instrument, I have slowed down the recording and the pitch has dropped about a semitone to 1=G (assuming A=440hz).
You can play along on the erhu in standard (gaohu) fingering (open strings: sol, re).
Or you can play along on the gaohu, yehu or zhonghu tuned to G, D, but with different fingering (open strings: do, sol).