A Collection of Music Played on the Erhu Vol 1 (1992 CD, China Record)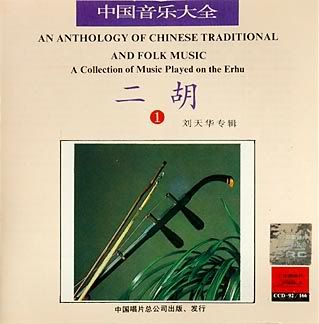 Performers: Min Huifen 闵惠芬, Zhāng Ruì 张锐, Wáng Guótóng 王国潼, Wáng Yíqín 王宜勤, Jiāng Jiànhuá 姜建华, Zhāng Sháo 张韶, Zēng Xún 曾寻
Album: A Collection of Music Played on the Erhu Vol 1
(An Album of Liú Tiānhuá's Works)
CD Year: 1992
CD Company: China Record CCD-92/166
AAD
Track list:
01. bìng zhōng yín 病中吟 Reciting on the Sickbed - Min Huifen 闵惠芬
02. yuè yè 月夜 In the Moon Night - Zhāng Ruì 张锐
03. kǔ mèn zhī ōu 苦闷之讴 Chant of Depression - Zhāng Ruì 张锐
04. bēi gē 悲歌 Lament - Wáng Guótóng 王国潼
05. liáng xiāo 良宵 A Fine Night (chú yè xiǎo chàng 除夜小唱 Song of New Year's Eve) - Wáng Yíqín 王宜勤 et al
06. xián jū yín 闲居吟 Reciting in Leisurely Living - Jiāng Jiànhuá 姜建华
07. kōng shān niǎo yǔ 空山鸟语 Birds are Singing in the Tranquil Valley - Zhāng Sháo 张韶
08. guāng míng xíng 光明行 Marching on a Bright Road - Zēng Xún 曾寻
09. dú xián cāo 独弦操 Air on One String - Zhāng Ruì 张锐
10. zhú yǐng yáo hóng 烛影摇红 Candle Light's Shadow Swings in Red Colour - Zhāng Ruì 张锐
This is the first volume of a 10-CD set of erhu music published by China Record in 1992. It seems the recordings have all been previously released on various albums. For example the two tracks by Zhang Rui were on his 1982 cassette, see
http://huqinblog.blogspot.com/2009/08/zhang-rui-liu-tianhua-erhu-solos-china.html
In contrast to that album which are erhu only (as originally composed), the recordings of the ten Liu Tian erhu solos here have various arrangements, ranging from solo to large ensembles.
The rest of the volumes will be posted in the future.
Download link: 49MB 130 vbr mp3 in zip folder inc covers
Note that depending on the zip program you are using, the folder might not extract properly, older versions 7-Zip do not work. It appears this is because the file names contain Chinese characters.
If you are having problems, newer versions of 7-zip or WinRAR will work, the Chinese characters will appear as underlines when extracted.